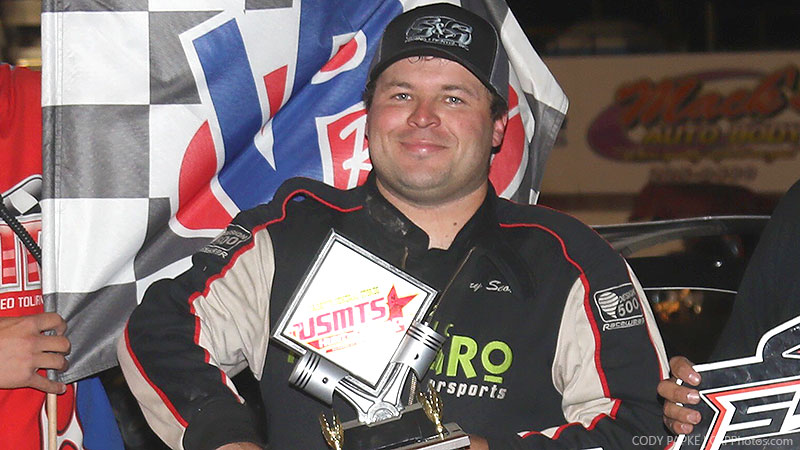 Scott stays hot with USMTS Hunt for the Casey's Cup win at Brown County Speedway


ABERDEEN, S.D. (Aug. 9)--Stormy Scott made it two straight with a wire-to-wire win Wednesday night during the 2nd Annual Bullet SportsWear Modified Showdown at the Brown County Speedway in Aberdeen, S.D.

Scott, who won the second race of the USMTS Hunt for the Casey's Cup powered by S&S Fishing & Rental last Friday at the Humboldt Speedway, continued his strong showing in his new VanderBuilt Race Cars chassis after debuting it last Thursday in the Hunt opener.

The 27-year-old from Las Cruces, N.M., nabbed the Sybesma Graphics Pole Award and fended off challenges from Cade Dillard for most of the 40-lapper, but a flat tire with four laps remaining brought out the race's third and final caution and sent Dillard to the rear of the field.

Travis Saurer inherited the second spot but was unable to mount a serious challenge to Scott and settled for the runner-up finish ahead of defending USMTS national champion Jason Hughes, Ricky Thornton Jr. and Dereck Ramirez.

Cory Crapser, Zack VanderBeek, 15th-starting R.C. Whitwell, Adam Kates and Jake Timm rounded out the top 10 finishers.

Dillard could only recover for a 16th-place finish.

It was the 42nd career USMTS victory for Scott, tying him on the all-time wins list with VanderBeek. VanderBeek was the 2004 USMTS Rookie of the Year while Scott earned the same honors in 2012.




The series heads to the Red Cedar Speedway in Menomonie, Wis., on Thursday with USRA Limited Late Models and Midwest Mods also racing. The pit gate opens at 4 p.m., grandstands open at 5, hot laps begin at 7 and the green flag waves at 7:30. Spectator admission is $20, youth ages 11 to 15 are $10 and children ages 10 and under get in for free. Pit passes are $35.

The Red Cedar Speedway is a semi-banked 3/8-mile clay oval located on the east side of Menomonie, Wis., on SR 29 (at the Dunn County Fairgrounds). For more information, check out www.redcedarspeedway.com online.

To learn more about the United States Modified Touring Series, visit www.usmts.com online or call 515-832-7944. You can also like us on Facebook at www.facebook.com/usmts, follow us on Twitter at www.twitter.com/usmts and Instagram at www.instagram.com/usmts or subscribe to our YouTube channel at www.youtube.com/usmtstv. Keep up to speed with everything USMTS by joining our email list at www.usmts.com/subscribe.

= = = = = = = = = = = = = = =

OFFICIAL RESULTS
United States Modified Touring Series
USMTS Hunt for the Casey's Cup powered by S&S Fishing & Rental
2nd Annual Bullet SportsWear Modified Showdown
Brown County Speedway, Aberdeen, S.D.
Wednesday, Aug. 9, 2017

Showing finishing position, starting position in parentheses, car number, driver, hometown, chassis/engine builder, laps completed and money won.

SIMPSON PERFORMANCE PRODUCTS HEAT RACE #1 (8 laps):
1. (3) 33z Zack VanderBeek, New Sharon, Iowa.
2. (8) 12 Jason Hughes, Watts, Okla.
3. (1) 48 Brent Dutenhoffer, Watertown, S.D.
4. (4) 23 Adam Kates (R), Tonganoxie, Kan.
5. (7) 20 Trevor Anderson, Watertown, S.D.
6. (2) 23 Terry Haven, Britton, S.D.
7. (5) 81 Mike Densberger, Lincoln, Neb.
8. (6) 8c Chris Clark (R), Jackson, Wyo.

FAST SHAFTS HEAT RACE #2 (8 laps):
1. (2) 20rt Ricky Thornton Jr., Chandler, Ariz.
2. (4) 4r Dereck Ramirez, Woodward, Okla.
3. (6) 97 Cade Dillard, Robeline, La.
4. (7) 49jr Jake Timm, Winona, Minn.
5. (1) 1m Curt Myers, Cameron, Wis.
6. (8) 18z Zane DeVilbiss (R), Farmington, N.M.
7. (5) 96 R.C. Whitwell (R), Tucson, Ariz.
8. (3) 3z Duane Zabel, Selby, S.D.

EDELBROCK HEAT RACE #3 (8 laps):
1. (2) 1s Travis Saurer (R), Elizabeth, Minn.
2. (1) 07 Cory Crapser, Chippewa Falls, Wis.
3. (6) 2s Stormy Scott, Las Cruces, N.M.
4. (3) 24s Denver Nickeson, Veblen, S.D.
5. (4) 32 Jesse Young, Warner, S.D.
6. (5) 49 Bob Timm, Winona, Minn.
7. (7) 9 Kent Arment, Aberdeen, S.D.
DNS - 4w Tyler Wolff (R), Fayetteville, Ark.

REAL RACING WHEELS "B" MAIN (10 laps, all advance):
1. (2) 1m Curt Myers, Cameron, Wis.
2. (4) 18z Zane DeVilbiss (R), Farmington, N.M.
3. (8) 96 R.C. Whitwell (R), Tucson, Ariz.
4. (1) 20 Trevor Anderson, Watertown, S.D.
5. (6) 49 Bob Timm, Winona, Minn.
6. (9) 9 Kent Arment, Aberdeen, S.D.
7. (7) 81 Mike Densberger, Lincoln, Neb.
8. (11) 3z Duane Zabel, Selby, S.D.
9. (10) 8c Chris Clark (R), Jackson, Wyo.
10. (5) 23 Terry Haven, Britton, S.D.
11. (3) 32 Jesse Young, Warner, S.D.
DNS - 4w Tyler Wolff (R), Fayetteville, Ark.

CASEY'S GENERAL STORES "A" MAIN (40 laps):
1. (1) 2s Stormy Scott, Las Cruces, N.M., VanderBuilt/Mullins, 40, $5000.
2. (4) 1s Travis Saurer (R), Elizabeth, Minn., MBCustoms/Dakota, 40, $1700.
3. (7) 12 Jason Hughes, Watts, Okla., Hughes/Mullins, 40, $1200.
4. (8) 20RT Ricky Thornton Jr., Chandler, Ariz., Shaw/Mullins, 40, $1000.
5. (5) 4r Dereck Ramirez, Woodward, Okla., LG2/Cornett, 40, $900.
6. (6) 07 Cory Crapser, Chippewa Falls, Wis., MBCustoms/Troy's, 40, $900.
7. (2) 33z Zack VanderBeek, New Sharon, Iowa, VanderBuilt/Sput's, 40, $800.
8. (15) 96 R.C. Whitwell (R), Tucson, Ariz., MBCustoms/Hatfield, 40, $750.
9. (11) 23 Adam Kates (R), Tonganoxie, Kan., LG2/Speedway, 40, $700.
10. (9) 49jr Jake Timm, Winona, Minn., MBCustoms/Sput's, 40, $650.
11. (13) 1M Curt Myers, Cameron, Wis., LG2/Sput's, 40, $600.
12. (16) 20 Trevor Anderson, Watertown, S.D., Arrow/Victory, 40, $550.
13. (19) 81 Mike Densberger, Lincoln, Neb., Jet/Speedway, 40, $500.
14. (12) 24s Denver Nickeson, Veblen, S.D., MasterSbilt/Tim's, 40, $475.
15. (14) 18z Zane DeVilbiss (R), Farmington, N.M., DeVilbiss/DeVilbiss, 40, $450.
16. (3) 97 Cade Dillard, Robeline, La., MBCustoms/ASI, 40, $425.
17. (21) 8c Chris Clark (R), Jackson, Wyo., GRT/CNC, 37, $400.
18. (18) 9 Kent Arment, Aberdeen, S.D., MasterSbilt/Gunslinger, 30, $400.
19. (23) 32 Jesse Young, Warner, S.D., MasterSbilt/Sturdy, 27, $400.
20. (20) 3z Duane Zabel, Selby, S.D., MasterSbilt/Gunslinger, 21, $400.
21. (17) 49 Bob Timm, Winona, Minn., LG2/BuckBuilt, 9, $400.
22. (22) 23 Terry Haven, Britton, S.D., J-Car/, 8, $400.
23. (10) 48 Brent Dutenhoffer, Watertown, S.D., Lethal/Sput's, 2, $400.
DNS - 4w Tyler Wolff (R), Fayetteville, Ark., MBCustoms/Hatfield, 0, $300.

(R) = Grant Junghans Rookie of the Year contender

Lap Leader: Scott 1-40.
Total Laps Led: Scott 40.
Margin of Victory: 1.092 seconds.
Time of Race: 19 minutes, 3.292 seconds (3 cautions).
Provisional Starters: none.
KSE Racing Products Hard Charger: Whitwell (started 15th, finished 8th).
Entries: 24.
Next Race: Thursday, Aug. 10, Red Cedar Speedway, Menomonie, Wis.
Hunt for the Casey's Cup Points: Scott 344, Ramirez 313, Hughes 305, VanderBeek 282, Dillard 275, J. Timm 256, Whitwell 255, Saurer 238, Thornton Jr. 233, Ryan Gustin 232.
Grant Junghans Rookie of the Year Points: Whitwell 1920, Saurer 1805, Wolff 1763, Kates 1400, Billy Vogel 982.
Engine Builder of the Year Points: Mullins 376, Sput's 317, ASI 296, Hatfield 217, Durham 216.
Manufacturers Championship Points: MBCustoms 377, Hughes 369, VanderBuilt 329, GRT 305, LG2 258.

Contingency Awards:
Allstar Performance - Whitwell.
American Racer - B. Timm.
Beyea Custom Headers - Saurer.
BigDeal Car Care - Scott.
BSB Manufacturing - B. Timm.
Casey's General Stores - Nickeson.
Chix Gear Racewear - Kates.
Day Motor Sports - Dutenhoffer, Wolff.
Deatherage Opticians - Anderson.
Dickson Racing Shocks - DeVilbiss.
E3 Spark Plugs - Hughes.
Edelbrock - Saurer.
Fast Shafts - Thornton.
Forty9Designs.com - Nickeson, Young.
Fuel Safe Racing Cells - Crapser.
GRT Race Cars - Clark.
Hooker Custom Harness - Densberger.
Integra Shocks & Springs - Arment.
Jerovetz Motorsports Racing Parts - Clark.
Keyser Manufacturing - J. Timm.
KSE Racing Products - Whitwell.
Out-Pace Racing Products - Dillard.
QA1 - Saurer.
Real Racing Wheels - not awarded.
Simpson Performance Products - VanderBeek.
Sweet Manufacturing - Haven.
Swift Springs - Scott.
Sybesma Graphics - Scott.
Tire Demon - Myers.
VP Racing Fuels - Scott.
Wehrs Machine & Racing Products - Saurer.
Wilwood Engineering - VanderBeek.

= = = = = = = = = = = = = = =

USMTS OFFICIAL SPONSORS: American Racer Racing Tires, Argo Manufacturing, Casey's General Stores, Chix Gear Racewear, CP-Carrillo, Deatherage Opticians, Fast Shafts, Intercomp, KSE Racing Products, Leaf Racewear & Safety Equipment, Malvern Bank, MSD, Pace Performance, RacerWebsite.com, RacinDirt.com, RacingJunk.com, S&S Fishing & Rental, SToK Cold-Brew Coffee, Summit Racing Equipment, The Joie of Seating, VP Racing Fuels.

USMTS PARTICIPATING SPONSORS: Arizona Sport Shirts, ASi Racewear, Brodix Cylinder Heads, Duvall Electric, ElbowsUp.com, Mesilla Valley Transportation, Oreo, Production Jars, Rancho Milagro Racing, RHRSwag.com, YouDirt.com.

USMTS CONTINGENCY SPONSORS: 905 Ink, AFCO Racing Products, Allstar Performance, Beyea Custom Headers, BigDeal Car Care, BSB Manufacturing, Day Motor Sports, Dickson Racing Shocks, E3 Spark Plugs, Edelbrock, FK Rod Ends, Forty9 Designs, Fuel Safe, Genesis Racing Shocks, GRT Race Cars, Holley Performance Products, Hooker Custom Harness, Integra Shocks & Springs, Jerovetz Motorsports Racing Parts, Keyser Manufacturing, Out-Pace Racing Products, QA1 Precision Products, Real Racing Wheels, Simpson Performance Products, Sweet Manufacturing, Swift Springs, Sybesma Graphics, Tire Demon, Wehrs Machine & Race Products, Wilwood Disc Brakes.

##


Contact Info:

Jeff Nun

Communications Director

United States Modified Touring Series, Inc. (USMTS)

1715 W. 2nd St., P.O. Box 905

Webster City, IA 50595

Tel: 515-297-3835